Preamble
The Indian Nanoelectronics Users Program (INUP) was conceived and supported by MeitY, GoI and the Office of the PSA (OPSA) as an integral part of the initiative of establishing a Centre for Excellence in Nanoelectronics (CEN) at both IISc and IIT Bombay in 2006. It was envisioned that both the Nanocenters, built by the teams of technical experts, should be national centres whose facilities are open to aspiring academic researchers from the country. These "open national nanocenters" would inculcate a spirit of collaboration among researchers and raise the efficiency of operations by bringing in researchers from elsewhere in the country.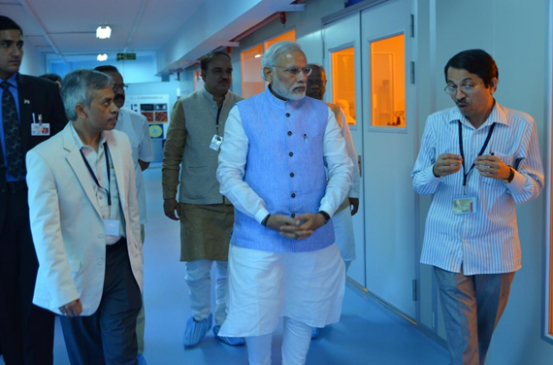 Prime Minister Shri Narendra Modi during his visit to Centre for
Nano Science and Engineering, IISc Bangalore
Achievements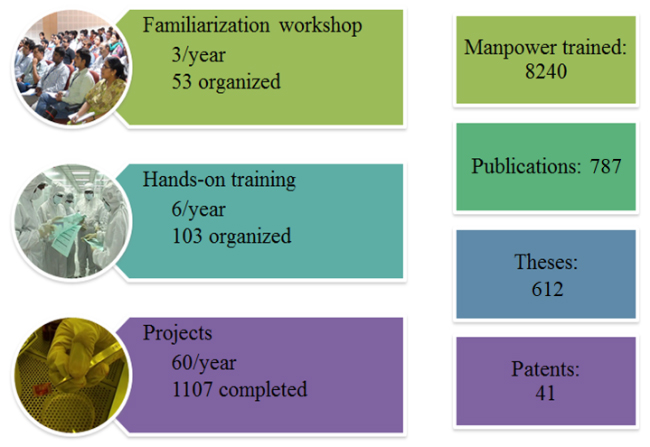 Achievements of the first two phases of the program
Over the past few decades, this bold vision of MeitY, GoI for INUP has indeed been realized. The response of researchers built up gradually during the first phase (2008-2014) through word of mouth and gathered steam during the second phase (2014-2019). This has also been aided by the mandate that Familiarization Workshops – Level 1 of INUP training be conducted in different remote parts of the country. Over the years, INUP participants have come from every part of the country. Thousands of academic researchers have been trained at different levels and hundreds from among them have conducted their own research projects, leading to many research theses, publications in refereed journals, papers presented in national and international conferences, as well as a number of patent applications being filed.